Innovation which brings digital experience in physical world, sometimes known as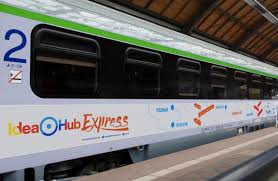 'phygital' if done well can be engaging, disruptive and impactful. Poland's Idea Bank known for its innovation is definitely showing the world how to win in 'phygitial' category. Aimed at targeting the SME business segment, Idea Bank identified that the travel is integral part of the business folks and have created a dual offering to complement the travel- Mobile work office and Mobile Bank on a train called the Idea Hub Express.
Idea Hub Express train cars, adopted for office work, feature tables, comfortable ch
airs and a screen for presentations. Travelers can also use the available office equipment (printers and scanners), phone chargers, Wifi connections, as well as coffee makers, and read a selection of newspapers delivered every day. Cars are open to all passengers holding a valid ticket, but Idea Bank customers have priority in taking the available seats.
It has also served to position Idea Bank as the bank of choice for  for small businesses and startups who need help starting their businesses.
ResonVate Thought
Mobile office and mobile bank on the tracks provides useful and unique experience.

I would like to ResonVate

with ideas on
Challenging status quo, Creating value, sharing economy, teaming strategy, customer journey
which can be applied in
product and service bundling, new point of positioning,  unique customer experience journey
in areas like
retail, healthcare, education
Reference
https://www.ideabank.pl/idea-bank-to-launch-rail-coworking-space-idea-hub-express
Image: streetwise.pl, bulletins.bfconsuling.com